Anesthesia Machine
halothane anesthesia vaporizer, anesthesia vaporizer
( Anesthesia for Children and Adult )

Model: MCA-301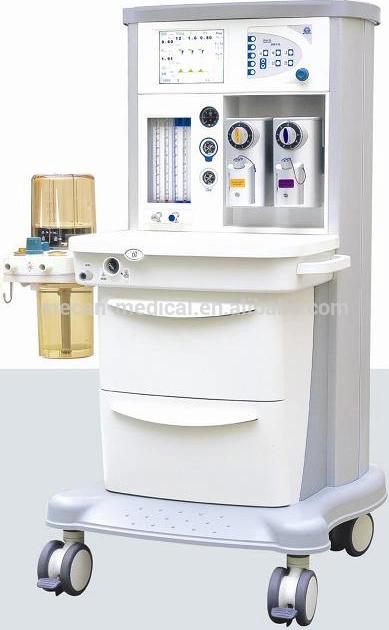 Main Feature of the halothane anesthesia vaporizer :
1. Applied for closed, semi-closed, semi-open inhalation anesthesia, controlled or assisted ventilation, monitoring and
display patients' ventilation parameters
2. Applied for adult and pediatric
3. Integrated anesthetic ventilation system, APL security air relief valve is available
4. Vaporizers: 2.
Advanced temperature, flow and pressure compensation technology, Halothane and Sevoflurance as per option.
5. 8.4" TFT-LCD display screen
Main Specification of the anesthesia vaporizer :
Type: Electronically controlled, Pneumatic driven
Patient spectrum: Pediatric to bariatric
Mode of ventilation: VCN, SIGH, SIMV, Stand-by, Manual, PEEP(Optional)
Hypoxic guard system: N2O cut-off valve, O2 concentration no less than 25%
Safety valve: <12.5kpa
Monitoring: VT, MV, BPM, Paw, FiO2, Lung compliance
Waveform: Pressure-time, flow-time, pressure-volume loop, volume-time (Optional), flow-volume loop (Optional)
Power: AC 220V±10%, 50Hz±2%, built-in battery support
Gas: O2, N2O, air (Optional)
Alarm of the halothane anesthesia :
Optimal multi-class alarm unit, VT beyond limitation, upper and lower limitation of ventilation, upper and lower limitation of ventilation, upper and lower limitation of airway pressure, asphyxiation, current failure, gas source hypotonic, gas circuit abnormity, upper and lower limitation of CO2 concentration (Optional)
Prompt and protection of the Anesthesia for Children:
Prompt for parameter limitations, protection for unreasonable parameter setting.
Welcome to contact MeCan Medical for this halothane anesthesia vaporizer, anesthesia vaporizer .