ASTM D974 Acd-3000I Automatic Transformer Oil Acidity Testing Kit (ACD-3000I)
Description:
This tester, applicable to GB/T264, GB7599-87, GB/T7304-2000 and other regulations, which can accurately test the acid value of transformer oil, steam-turbine oil, fire-resistant oil, diesel oil, gasoline oil and other petroleum products, has been widely used in fields of chemical industry, power, petroleum, etc. And thus is a ideal successor to current petroleum products acid value tester.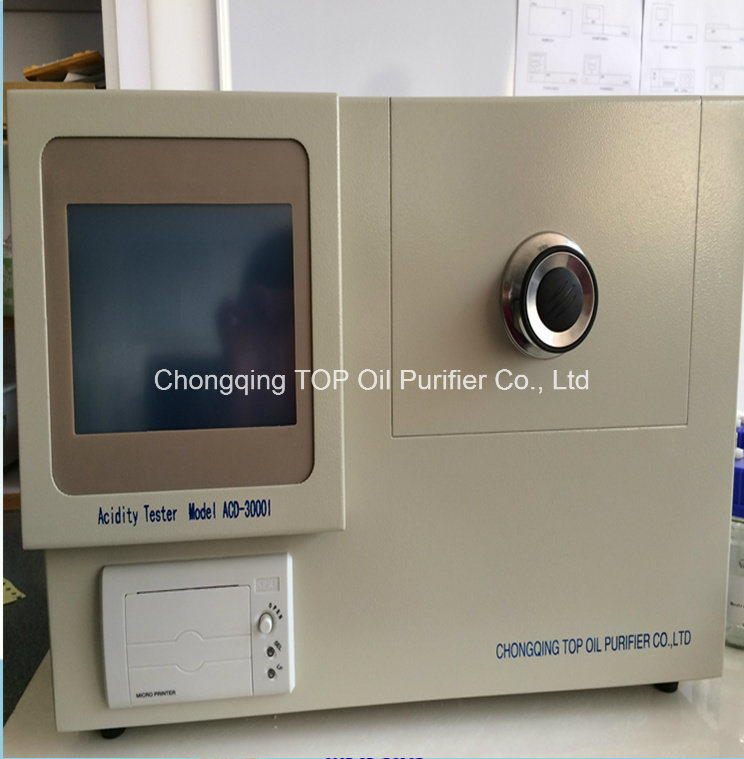 Features:
1. This tester adopts principle of acid-base titration and is controlled by micro-computer, with color LCD display and English input menu.
2. Functions of automatic liquid adding, titration, stirring, judging end point of titration, storage, printing results, etc.
3. Out shell is made of high-quality cold-rolled steel plates with electrostatic sprayed surface, anti-corrosion and easy to clean.
4. Tester could clean pipes automatically, avoiding pipes blocking as well as eliminating bubbles, so as to extend pipes service lifetime.
5. Automatic change-over and testing between six sample cups is convenient for parallel comparison of acid value testing results.
6. Tester could proceed automatic checking when breakdown occurs and is available to store 260 groups testing data.
Technical Parameters
:
Method of Display: 7 inch color LCD
Accuracy: Acid value: 0.001-0.100mgKOH/G deviation: 0.0005mgKOH/g
Acid value: 0.1-0.5mgKOH/G deviation: 5% of indications
Testing Range: 0.0005~0.5000mgKOH/g
Resolution Ratio: 0.0001mgKOH/g
Repeatability 0.004mgKOH/g
Method of Printing: High speed thermal dot printing
Environmental Humidity: ≤ 85%
Power Supply: 220V± 10%, 50Hz± 5%
Dimension: 440× 300× 220
Weight: 16kg
About us:
Hello Friend!
Chongqing TOP is a professional leading manufacturer and supplier of oil purifiers and various related testers. We consists of departments respectively for technological development, machinery manufacture, instrument manufacture, quality control etc. On basis of mature development and manufacture technology and highly qualified production management team, the products own high quality, easy operation, excellent performance and lone service life.
Customer satisfaction is our utmost priority thus, customer service team is always on the brink to help our customers with their queries at any time.
We believe in working as a unit with an attitude of complete trust and understanding and are determined to provide safe, reliable and competitively priced products to our customers.
TOP Oil Purifiers
uses single or multi-stage filtration to remove, particulate, free water, and small quantities of dissolved water if necessary. The systems are usually customized to suite the specific customer application. Oil "regeneration", "reclamation", "recycling" are all terms used to describe the process of restoring used, aged, contaminated oils to "like new" reusable condition. The reclamation process removes free water, most dissolved water, dissolved gas, particulate, carbon contamination, acids, oxidation by products, most color bodies, wear metals, and most additive chemicals.
TOP Oil Testers
works on the development, production, market, technical and after-sale service for petrochemical analyzers, transformer substation electrical testing equipment and circuit detecting equipment. Main products are water content testers, surface/interfacial tension testers, flash point testers, kinematic viscosity testers, oil acidity testers, insulation oil dielectric strength testers, transformer characteristics testers, relay protection testers, high voltage testing equipment etc.