Ruby Nozzle Guide Tungsten Carbide Wire Tube Guide





Ruby Nozzle is made of two main parts, stainless steel and the processed ruby. It has been widely used in CNC automatic winding machine.



Ruby tiped coil winding nozzle guides(ruby nozzle) are used on coil winding machines and cable machines for wire guide. It is made of stainless stee and ruby by precise processing and combination. The rigidity of ruby is above than level 9 and is just less than that of diamond. Ruby tiped coil winding nozzle guide is a single crystal and can be made with high brightness and cleanness. It can effectively protect paint film and ling term continual work.

Ruby tiped coil winding nozzle guides Features:

1. High Wear Resistance
This is assured by the choice of materials for wear elements possessing. Hardness Value: 1800 ~ 2200Vickers, or 3times that of case hardened steel. Body material is stainless steel for structural supports, not wear-bearing.

2. Scratch-Proofing
Eliminate wire insulation film damage, low friction resistance, stable wire tension. The wire-guiding surfaces are mirror finished by diamond lapping to a surface roughness of 2 -4 micro inches Ra or better, material permit.

3. Straightness and Stiffness
Straightness and Stiffness are defined by the wire exit being concentric and inflexible with respect to the nozzle locating? . In plain terms, the wire should exit from the nozzle concentric to the locating? To within 0.02 mm, with or without load. A geometric characteristic presentation is shown at upper left. Concentricity to within 0.01mm.

4. Precise Exit Radii
Because the coil winding nozzle's Exit Radii governs the angle of the wire exit from one coil to the next, it should be monitored to + / - 0.025 mm. This is done by digital measurement, shown at upper right.

Specification:
Measurements:
Customize available by requested, outside diameter is governed by nozzle wall thickness. See the measurements drawing to confirm your nozzles measurements according to your winding machine and coil products.

Processing limit: D1≥ 0.2mm, D1≥ 0.7mm.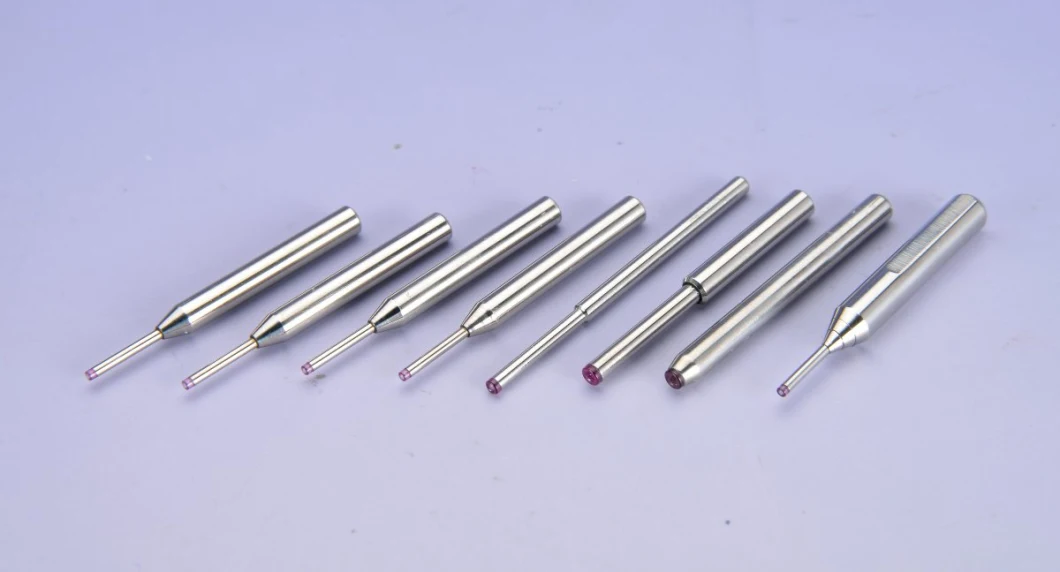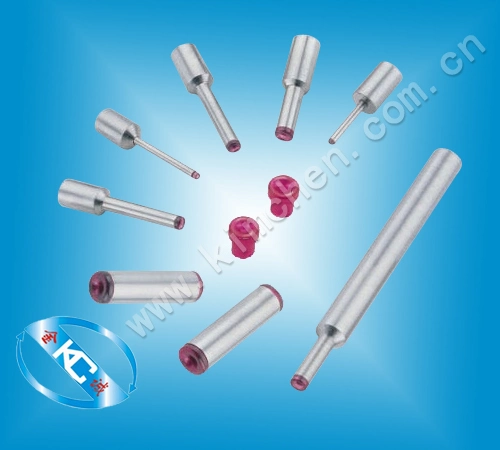 Series of fixing dimension Ø2
Serial
Model
Specification (mm )
L
L1
D
D1
d1
d2
H
1
RC0326-2-1006
26
6
2
1.0
0.3
0.6
N/A
2
RC0326-2-0806
26
6
2
0.8
0.3
0.6
N/A
3
RC0330-2-0807
30
7
2
0.8
0.3
0.4
N/A
4
RC0335-2-0810
35
10
2
0.8
0.3
0.4
N/A
5
RC0535-2-1008
35
8
2
1.0
0.5
0.5
N/A
6
RC0535-2.5-1411
35
11
2.5
1.4
0.5
0.8
N/A
7
RC0336-2.5-1011
36
11
2.5
1.0
0.3
0.6
N/A
8
RR0635-2-1610
35
10
2
1.6
0.6
0.8
N/A
9
RS0535-2.5-1210
35
10
2.5
1.2
0.5
0.8
N/A
10
RC0530-2-1208
30
8
2
1.2
0.5
0.6
N/A
10
RS0830-2
30
N/A
2
2
0.8
0.8
N/A
Series of fixing dimension Ø3
Serial
Model
Specification ( mm )
L
L1
D
D1
d1
d2
H
1
RC0330-3-1007
30
7
3
1.0
0.3
0.8
N/A
2
RC0330-3-0807
30
7
3
0.8
0.3
0.6
N/A
3
RC0430-3-1210
30
10
3
1.2
0.4
0.6
N/A
4
RC0530-3-1311
30
11
3
1.3
0.5
0.8
N/A
5
RC0630-3-1511
30
11
3
1.5
0.6
0.8
N/A
6
RC0323-3-1007P
23
7
3
1.0
0.3
0.8
16
7
RC0511-3-1506P
11
6
3
1.5
0.5
0.6
5
8
RC0514-3-1509P
14
9
3
1.5
0.5
0.6
5
9
RC0311-3-1006P
11
6
3
1.0
0.3
0.6
5
10
RC0314-3-1009P
14
9
3
1.0
0.3
0.6
5
11
RC0530-3-1455
30
5.5
3
1.4
0.5
0.6
N/A
12
RC0530-3-1465
30
6.5
3
1.4
0.5
0.6
N/A
13
RC0330-3-1535P
30
3.5
3
1.5
0.3
0.5
13
14
RC0330-3-1012
30
12
3
1.0
0.3
0.6
N/A
15
RS0821-3-2015P
21
15
3
2.0
0.8
1.0
6
16
RC0615-3-1505
15
5
3
1.5
0.6
0.6
N/A
17
RC0530-3-2014
30
14
3
2.0
0.5
0.5
N/A
18
RC0426-3-1208
26
8
3
1.2
0.4
0.6
N/A
19
RC0317-3-0812
17
12
3
0.8
0.3
0.4
N/A
20
RC0414-3-1309
14
9
3
1.3
0.4
0.6
N/A
21
RC0314-3-1015
14
1.5
3
1.0
0.3
0.6
N/A
22
RR0314-3-1003
14
3
3
1.0
0.3
0.5
N/A
23
RC03186-3-0805
18.6
5
3
0.8
0.3
0.4
N/A
24
RC0334-3-1035P
34
3.5
3
1.0
0.3
0.6
8
25
RC1030-3-2514
30
14
3
2.5
1.0
1.2
N/A
26
RS0522-3-1608P
22
8
3
1.6
0.5
0.8
14
27
RC0422-3-1208P
22
8
3
1.2
0.4
0.6
14
28
RS1030-3-20145
30
14.5
3
2.0
1.0
1.2
N/A
29
RS08115-3-2006P
11.5
6
3
2.0
0.8
1.1
5
30
RS15115-3P
11.5
N/A
3
N/A
1.5
2.0
5.5
31
RR08115-3-2055P
11.5
5.5
3
2.0
0.8
0.8
6
32
RR08145-3-2085P
14.5
8.5
3
2
0.8
0.8
6
33
RR10105-3
10.5
N/A
3
N/A
1.0
1.0
N/A
34
RR1014-3
14
N/A
3
N/A
1.0
1.0
N/A
35
RC1030-3-2013
30
13
3
2.0
1.0
1.0
N/A
36
RC0825-3-2520
25
20
3
2.5
0.8
1.0
N/A
37
RC0829-3-2015
29
15
3
2
0.8
1.2
N/A
38
RS0626-3-1420
26
20
3
1.4
0.6
0.8
N/A
39
RS0625-3-2520
25
20
3
2.5
0.6
0.8
N/A
40
RC0430-3-1065
30
6.5
3
1.0
0.4
0.6
N/A
41
RC0630-3-1465
30
6.5
3
1.4
0.6
0.8
N/A
42
RC0545-3-1315
45
15
3
1.3
0.5
0.6
N/A
43
RC0530-3-1006
30
6
3
1.0
0.5
0.8
N/A
44
RC0630-3-1406
30
6
3
1.4
1.2
0.6
N/A
Series of fixing dimension Ø4
Serial
Model
Specification ( mm )
L
L1
D
D1
d1
d2
H
1
RC0843-4-2014P
43
14
4
2.0
0.8
0.8
20
2
RS0843-4-2014P
43
14
4
2.0
0.8
1.0
20
3
RC0330-4-1515
30
15
4
1.5
0.3
0.6
N/A
4
RC0330-4-1415
30
15
4
1.4
0.3
0.5
N/A
5
RC0340-4-1006
40
6
4
1.0
0.3
0.6
N/A
6
RC0330-4-1415
30
15
4
1.4
0.3
0.6
N/A
7
RC1043-4-2514P
43
14
4
2.5
1.0
1.2
20
8
RS1230-4-2515
30
15
4
2.5
1.2
1.5
N/A
9
RC0343-4-1006
43
6
4
1.0
0.3
0.6
19
10
RS08285-4-2015
28.5
15
4
2.0
0.8
1.2
N/A
11
RS0643-4-1515
43
15
4
1.5
0.6
1.0
20